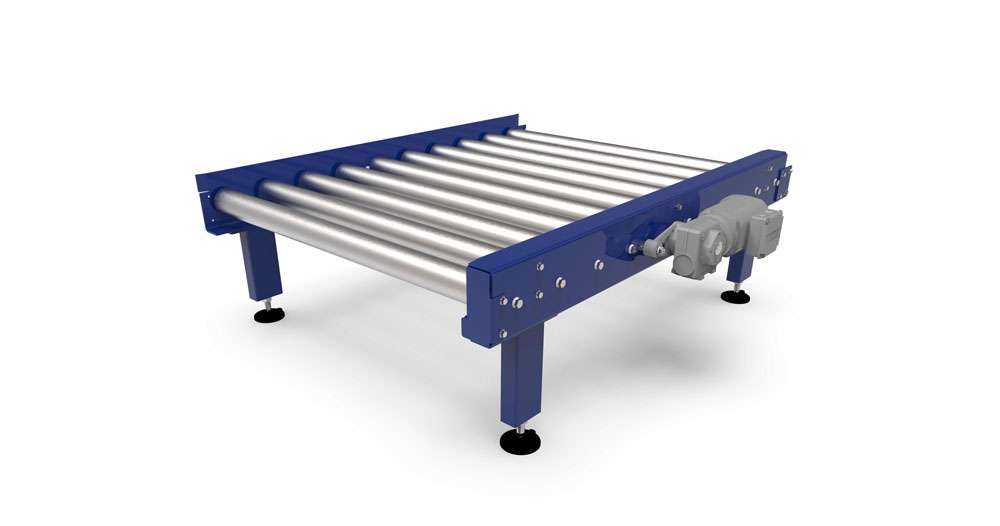 The PRC is a robust pallet roller conveyor where each roller is chain drive, meaning the system is very low maintenance and capable of handling loads up to 1500kg. The PRC is capable of handling both UK STD Pallets and Euro Pallets, narrow edge leading, ensuring all running boards are suitably supported at all times. The PRC is designed to link together with other PRC modules, Chain Transfer, Turntable or Shuttle Car to develop a pallet handling system which utilises your available space to its maximum efficiency.
The PCC is our range of triple chain conveyors, specifically designed to handle both UK STD and CHEP pallets wide edge leading. This ensures that the pallets are able to transfer from conveyor to conveyor smoothly which would not be possible on the PRC modules. Along with an impressive payload capability of 1500kg, the PCC is designed to require minimal maintenance intervention, with all parts accessible and easily removed and replaced if required. The PCC is designed to link together with other PCC modules, Chain Transfer, Turntable or Shuttle Car to develop a pallet handling system which utilises your available space to its maximum efficiency. The PCC comes in a range of lengths from the PCC ## up to the PCC ## for long runs which do not require accumulation.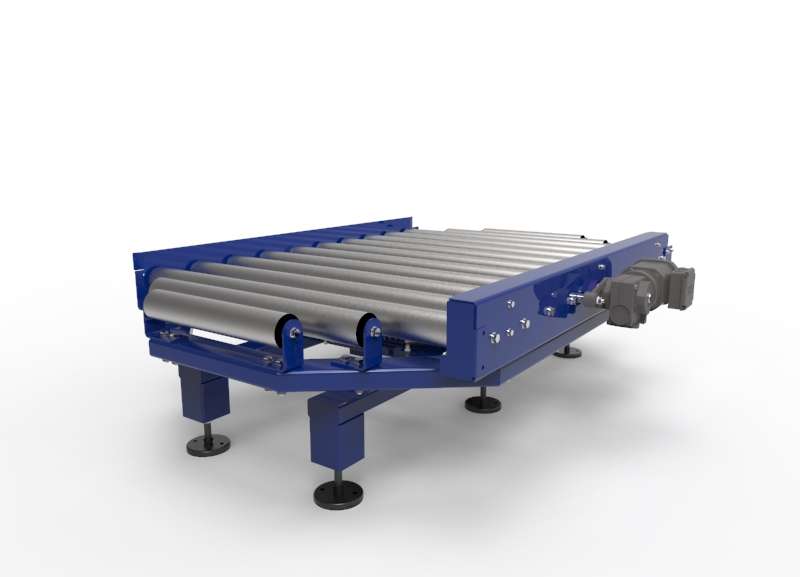 The CKF pallet turntable is an intrinsically safe pallet turntable fitted with a PRC ## module. It is manufactured to be virtually maintenance free and can rotate pallets through 90 or 180 degrees to maintain the orientation of the pallet throughout the system. Using a heavy duty slewing ring the CKF pallet turntable maintains the stability of the pallet throughout its movement, ensuring that the load upon the pallet remains in place and reducing uneven wear on the support frame.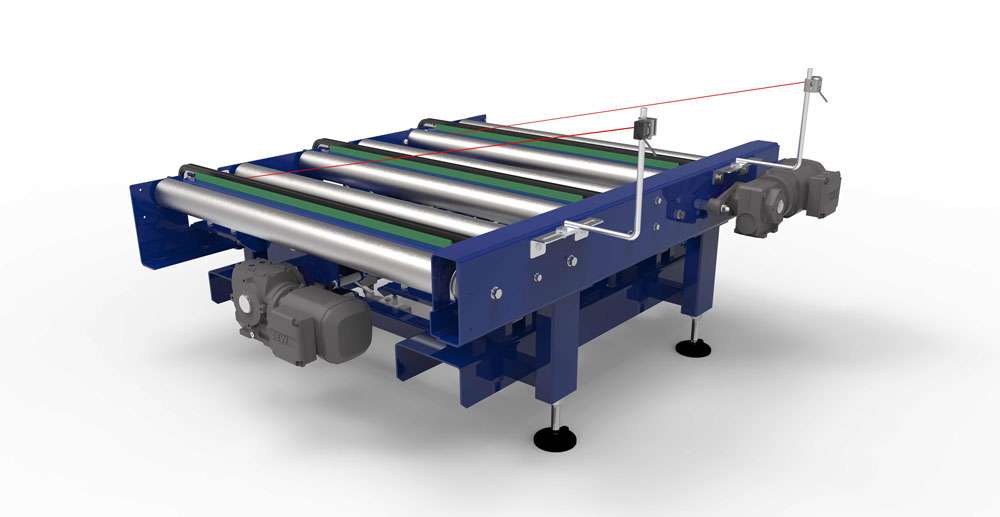 Two options are available in the CKF Chain transfer system, this is the corner transfer unit and the through chain transfer. Both units have been designed to an extremely high level, capable to lifting loads up to 1500kg, changing the orientation of travel from narrow edge leading to wide edge leading.
Pallet Destacker / Stacker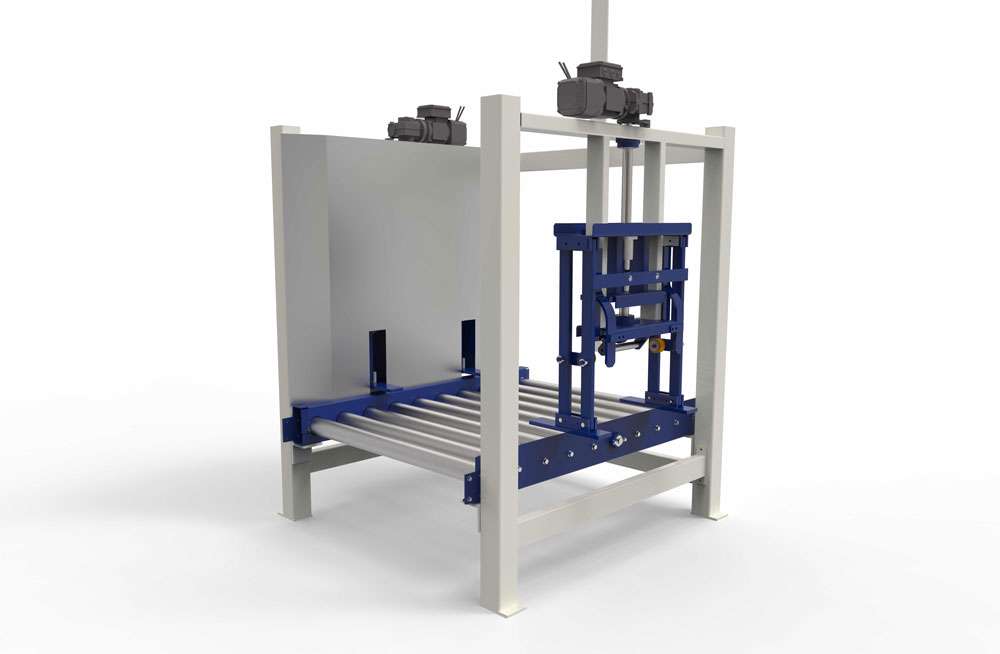 The standard CKF pallet de-stacker has been designed to operate with the minimal amount of moving parts, creating and extremely robust and reliable piece of equipment, rated to de-stack pallets stacked up to 15 high. The unit does not require a mains compressed air supply as it has been designed to be fully electric, allowing it to be used with any logistics or warehousing operation. Two options are available, a UK STD and Euro pallet destacker. CKF also have a range of pallet stackers (which can double as pallet stackers when required), this design utilises a cantilevered arm design to clamp the pallets, lifting the stacks and allowing a single pallet to pass through the system. Not only can this system destack and stack product we have an option to handle both Euro and UK STD pallets (one pallet type at one time).
Scissor Lift Mounted Conveyor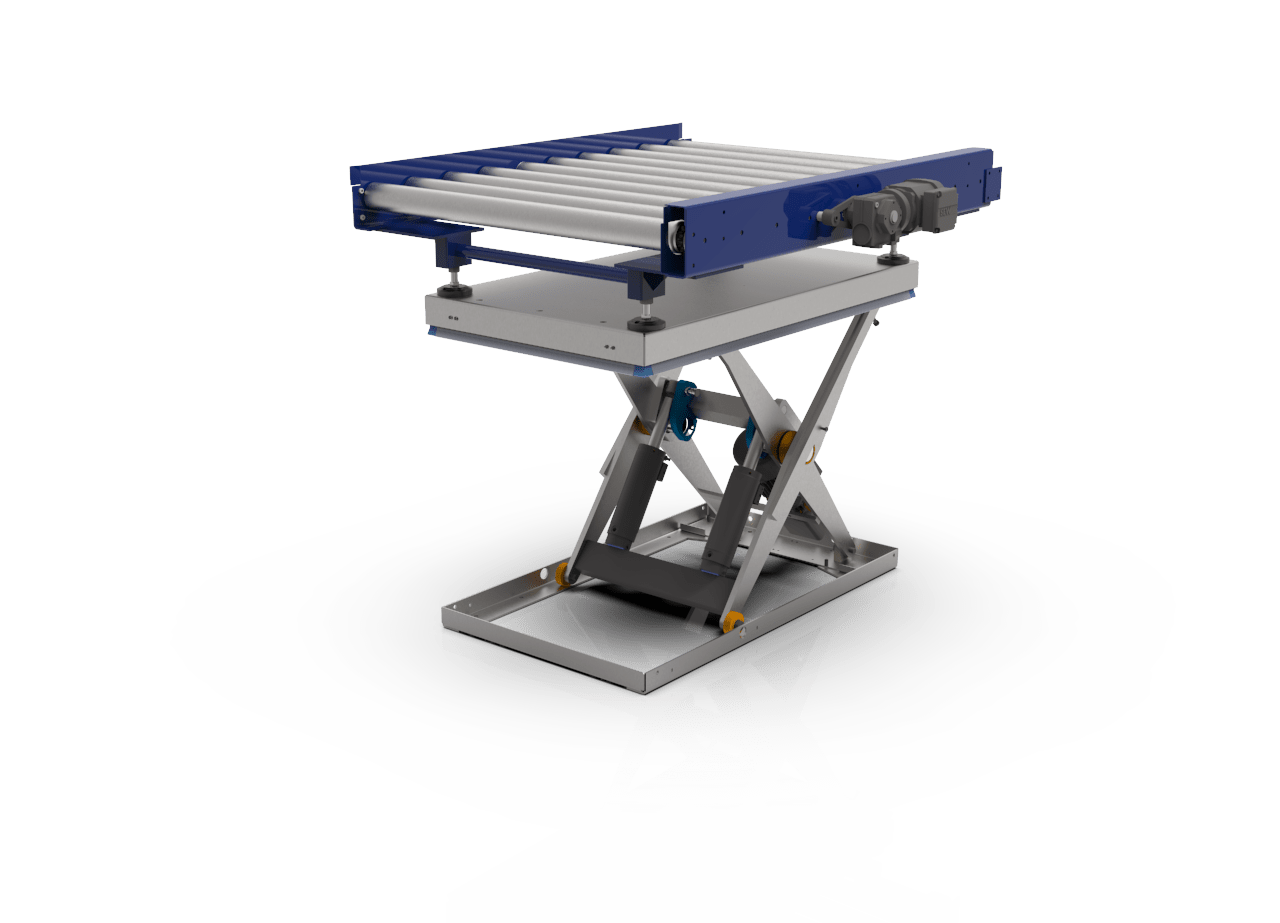 A low profile pallet roller conveyor available with pallet a pallet clamp is has been designed to receive empty pallets from a lower tier of conveyors and clamp it in place for palletising. Coupled with a low profile Scissor lift, this allows for a double tier shuttle car system to deliver empty pallets onto a lower tier of conveyors, and elevate the pallet to an upper tier without the need for costly or messy civil engineering works.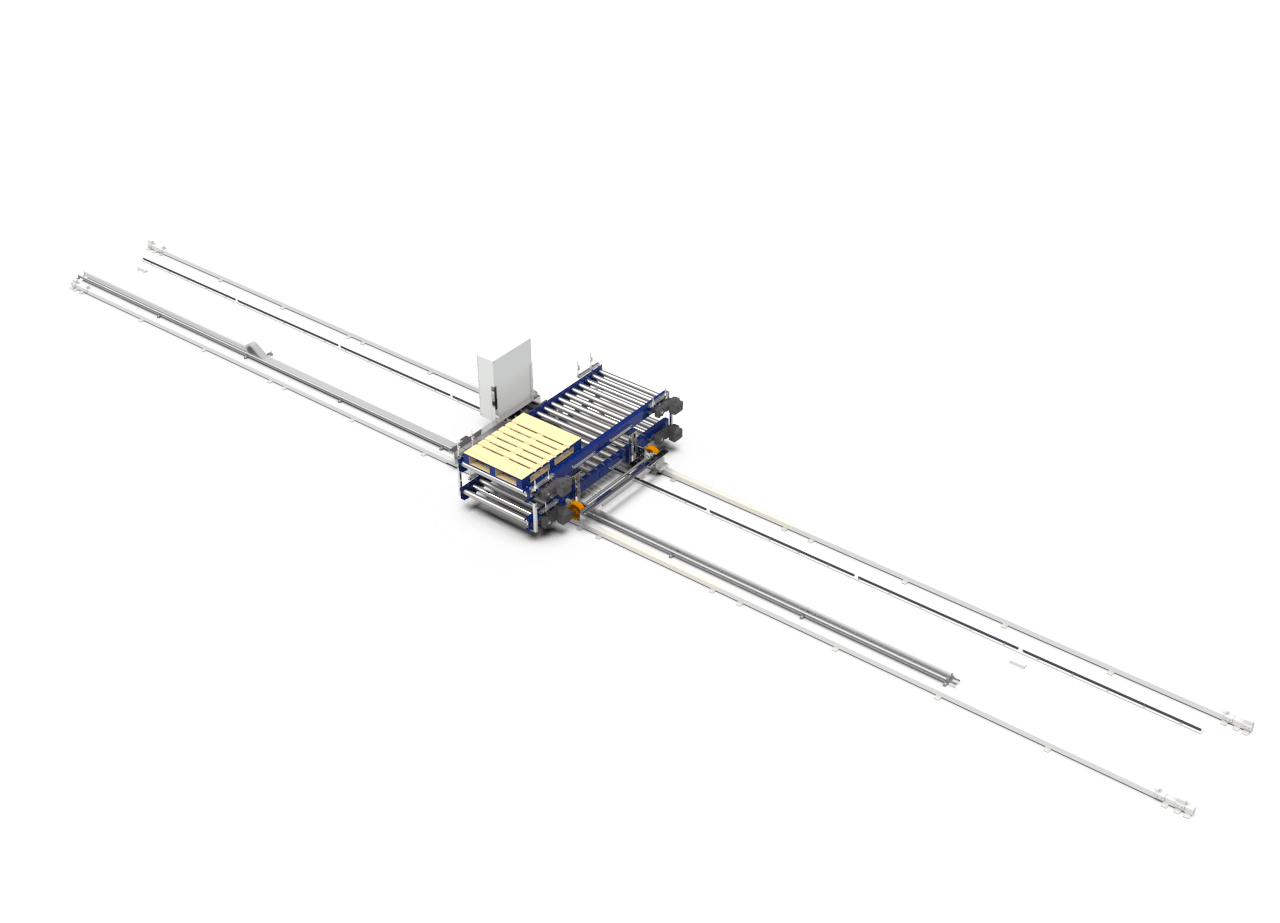 CKF's range of shuttle cars are rail mounted shuttle cars which are available as:
Single tier, single conveyor shuttle cars
Single tier, double conveyor shuttle cars
Double tier, single conveyor shuttle cars
Double tier, double conveyor shuttle cars.
These are all manufactured to be extremely durable and run at speeds of up to 40m/min along any track length required for the solution. Shuttle cars are the ideal solution to delivering empty pallets and removing full pallets from central palletising systems with multiple palletising legs, while minimising the factory footprint required. All our shuttle cars are design to run on floor mounted rails to prevent the requirement of costly and time consuming civil works to sink the rails into the floor. The shuttle cars are guided by the rails and rely on a combination of motor encoders and non contact – absolute encoder rails to accurately position themselves in relation to the feed conveyors.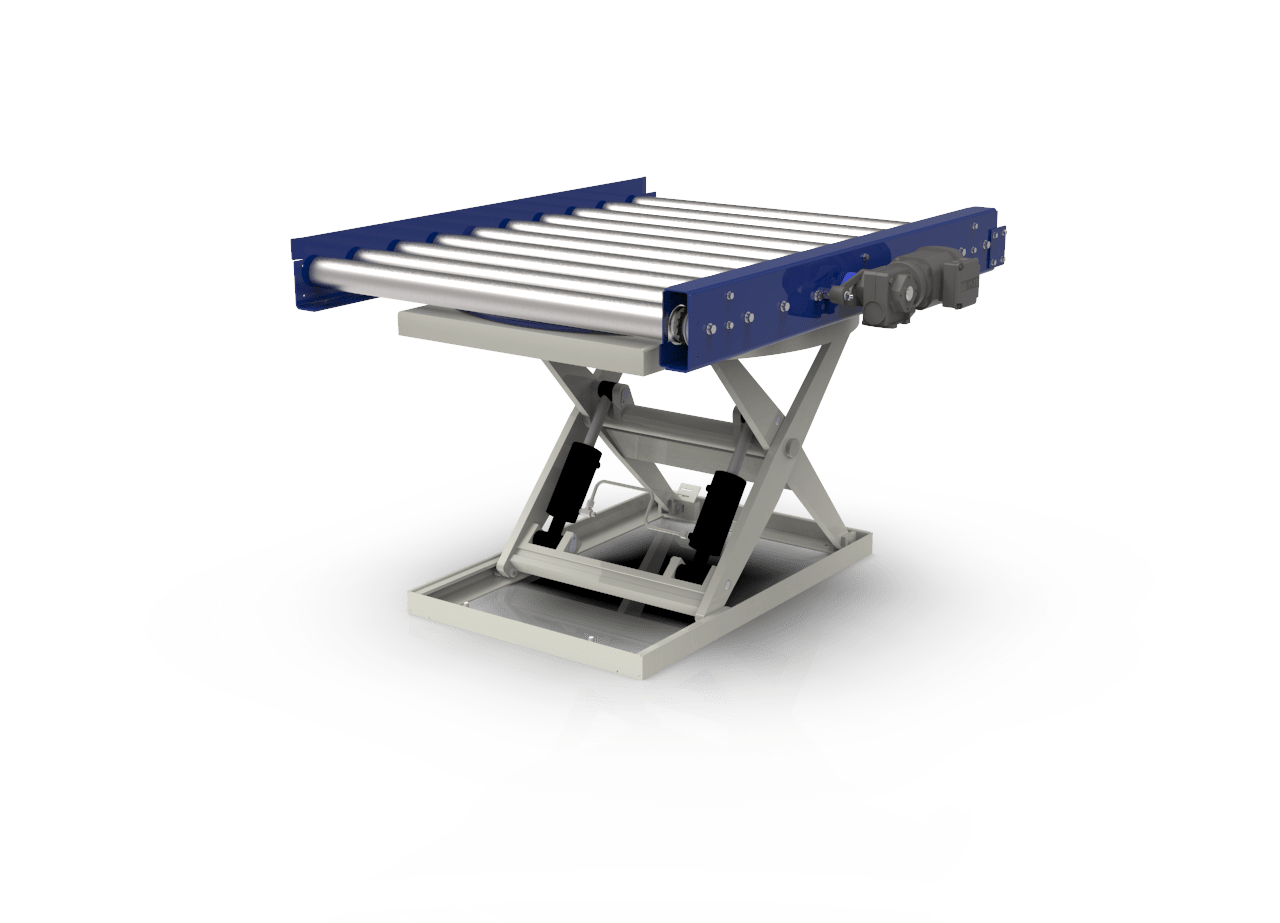 CKF work with a number of partners to supply robust and reliable scissor lifts as required, ranging from single conveyor lifts to large multi conveyor lifts
When full pallets of lightweight product need to be shipped in a vehicle but do not utilise the vehicle to its maximum, the answer is to stack the pallets to double height. The CKF double stacker allows manufacturers to stack the pallets on top of one another in line without the need for any extra FLT movements, allowing operators to remove the pre-stacked pallets and load them directly into the vehicle.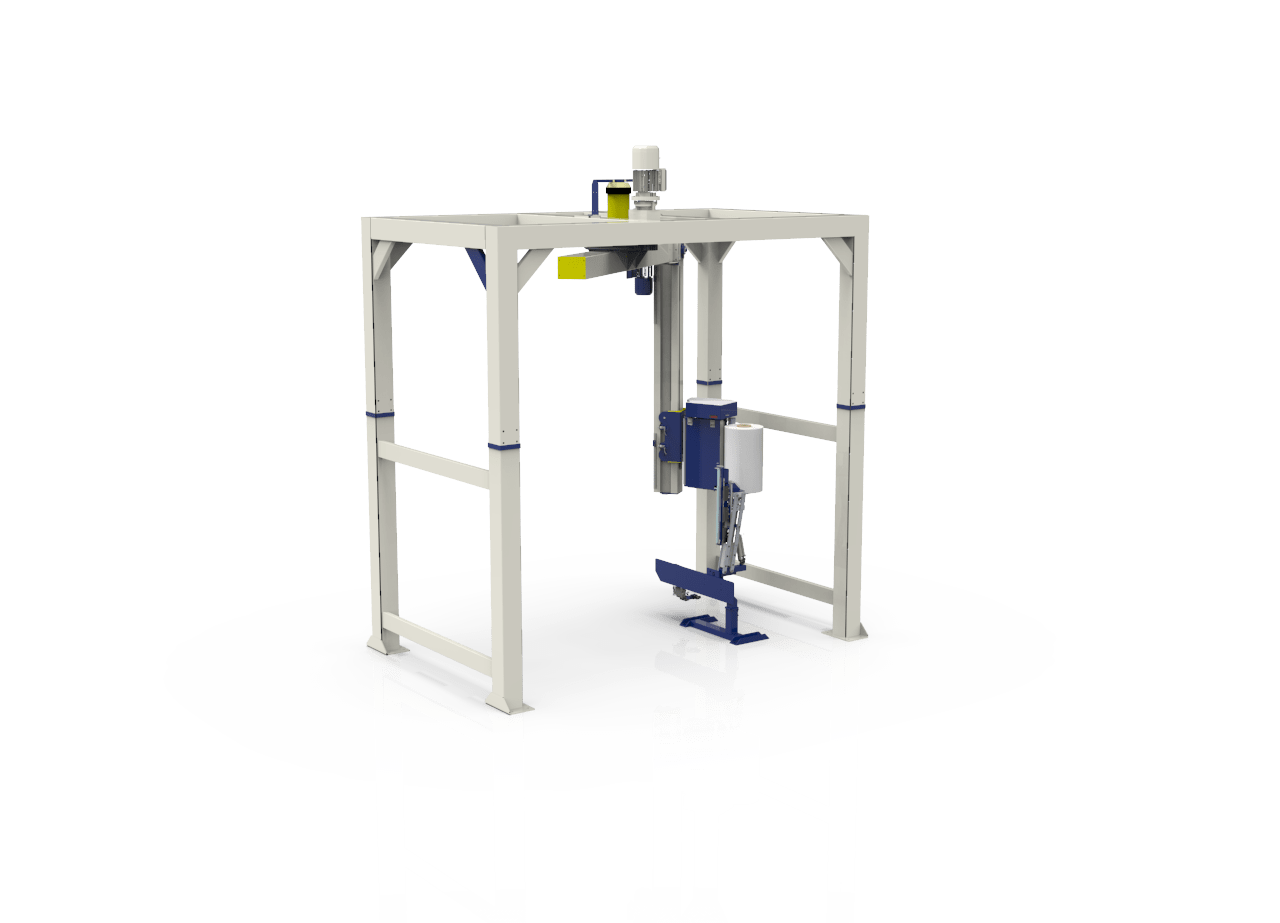 CKF work with a range of pallet wrapping partners to integrate pallet wrappers, from turntable pallet wrappers for low throughput, high stability pallets up to high speed ring wrappers with top pads, for high throughput, low stability pallets. We provide pallet strapping and stretch wrapping as part of a fully integrated palletising and pallet handling solution. Although we will incorporate and integrate existing wrappers or machines specified by the end user, many of our existing installations have incorporated wrappers from system partners such as M.J Maillis and Atlanta Packaging. Consideration needs to be given to access for consumables in a safe and controlled manner without having a detrimental impact on overall system efficiency of the entire palletising system. Additional features such as top sheet applicators, corner post applicators and labelling solutions are all available through CKF Systems.
CKF are partners with Markem labelling systems and can integrate labelling systems into our end of line solutions. These include inkjet printers directly onto cases prior to palletising, to print and apply systems to label multiple edges of pallets. The labelling systems can be integrated into our control systems and link to your factory management or warehouse management systems to retrieve the required information to be printed onto the pallet or case.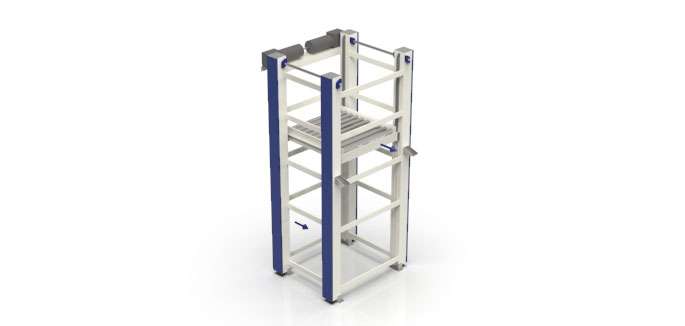 CKF are authorised integrators and partners with Qimarox, who manufacture vertical pallet lifts which can be used to lift full pallets up to ##m allowing pallet accumulation at high level (releasing space on the shop floor) or lifting pallets to a higher level within the factory.