Control Systems
Electrical control systems are designed and manufactured by CKF Systems ranging from a standard control panel for motor control through to a fully integrated control system including the interfacing between many pieces of equipment, complex software, integrated safety circuits and human machine interfaces.
CKF have a full team of electrical engineers including project engineering, electrical design, panel build, electrical assembly and software engineers for both plc and robotic programming.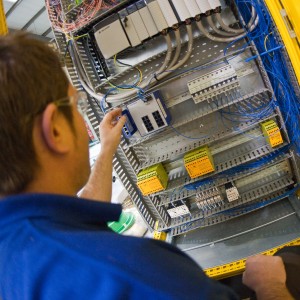 Clients standards for panel manufacture, wiring, termination and containment design will all be evaluated by the CKF electrical engineers and wherever possible these will be adopted within the total solution provided by CKF Systems.
CKF Systems will incorporate wherever possible the customers standards for electrical components and design and although most customers standardise on either Rockwell or Siemens plc's, CKF can fully support and integrate these as well as the majority of other manufacturers.