Stainless Steel Conveyors
Since CKF Systems foundation in 1988 it has been designing and  manufacturing stainless steel conveyors, primarily for the food and pharmaceutical industries and has built a considerable reputation with many blue chip companies supplying systems worldwide.
CKF's full range of conveyors are designed to be manufactured from stainless steel grade 304 as standard but this can be upgraded to grade 316 should the application require.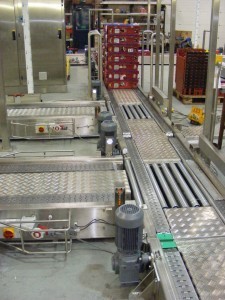 These standard designs include:-
Belt Conveyors – Modular Belt Conveyors – Roller Conveyor – Boarderflex Conveyors – Troughed Conveyors – Cooling Conveyors – Vibratory Feeds – Slat Conveyors – Packing Stations – Luffing Conveyors.
In addition to these standards, CKF System offer a design and build service for the more bespoke applications within the production environment.
Full stainless steel conveyor systems and solutions are provided by CKF with the final solution incorporating spiral conveyors, high speed divert  or combining units, accumulation systems, distribution lines, weighing, stacking/destacking and metal detection.