Robotic Palletising
We are the UK's leading providers of integrated Robotic palletising solutions for the food, pharmaceutical and automotive industries. Robotic palletisers can be used in almost any industry where a unit load requires the stacking or placement onto a pallet. We will tailor the solution to suit each application, ranging from a simple economical cell for palletising a single product line onto a pallet to a complex multiple line and multiple robot solution.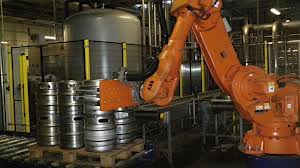 ABB 4 axis IRB 660 robotic arm
The majority of our robotic palletising installations revolve around the ABB 4 axis IRB 660 robotic arm robotic arm due to its proven abilities, although the IRB 460 is used for smaller cells and the IRB 760 for heavier loads. We have been supplying full turnkey palletising systems to manufacturing industry for more than ten years and as a result of our successes, CKF is now a recognised expert in its field.
Integrated Palletising Systems
Our in house expertise extends from mechanical design, electrical design, tool design and  computer simulation to manufacture, panel build, PLC and robotic software and vision inspection systems. Our automated palletising solutions will often start within the production area and products conveyed to the centralised palletising area and incorporate product recognition and sortation, pre-collation of products to minimise robot picks and maximise utilisation, layer sheet placement, corner post applicators, stretch wrapping , top sheeting, labelling, stacking and transportation of pallets to warehouse or despatch.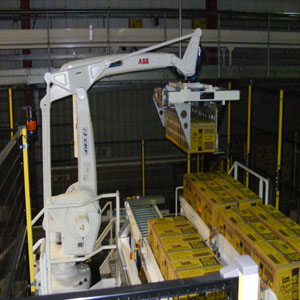 In house evaluation, test and trial
We offer an evaluation service to every customer to identify the right palletising solution that extends from an initial review through to a full study and simulation depending on the complexity of the project.
Visit our News section for on our projects with Cadbury's Sheffield and Barry Callebaut.
For more information, please get in touch using the details below or visit our 'Contact Us' page.
CKF Systems Limited
The Pavilions
Olympus Park
Quedgeley
Gloucester
GL2 4NF
Tel: +44 (0)1452 728753