Combined Depalletising/Palletising Systems
Many applications within a process and manufacturing environment require products / trays / bins to be de-palletised, processed and then re-palletised.
A number of challenges exist when considering these applications including how the product is initially presented, accuracy of stack and how the product can be picked. Our solutions have successfully overcome many of these challenges for different types of products and some in difficult environments.
WHAT SOLUTIONS DO WE OFFER?
Typical products have revolved around plastic trays or bins of various sizes and have included either a filling or tipping operation to complete the process, all being designed and supplied by CKF. Other applications have including the handling of sacks, bags, cases and consumer products. Solutions could involve picking single, multiple or a full layer of product and would include a method of aligning the stack either prior to or within the robot picking cycle, or the use of vision recognition software to identify the exact location of the product before the pick.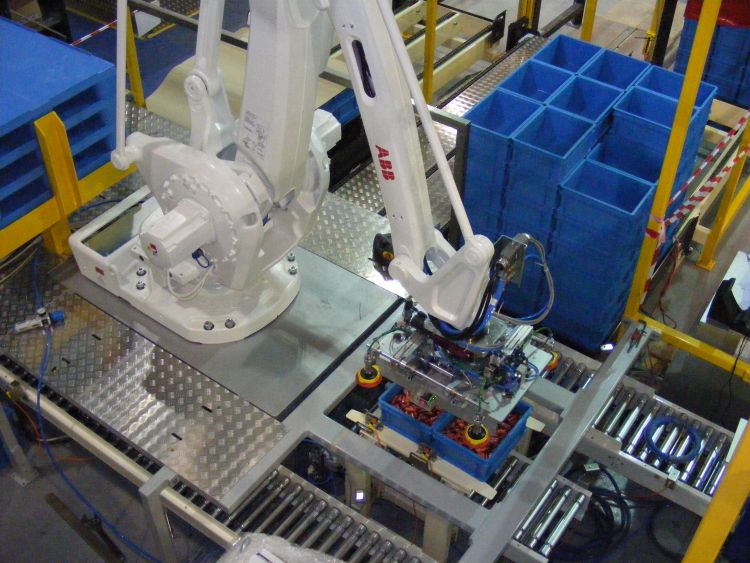 ROBOTIC CENTRALISD PALLETISATION
An example of a recent Central Palletising System is Cadbury in Sheffield, where we designed and installed a new palletising system incorporating three robot-palletising cells, each comprised of an ABB IRB660 robot with a vacuum gripper together with a pallet handling system including pallet dispensers and high speed stretch wrappers. Click here for more.
We were also recently appointed by one of the world's most popular snack brands to improve the versatility of its production plant and increase line speeds. The project's objective was to deliver its current eleven production lines, housed in two separate factories, into a centralised palletising system, capable of handling the full range of pallet types and stacking patterns.
SPIRAL CONVEYOR SYSTEMS
"It was a 12 month programme with real complexity and we worked to a very strict timetable and alongside the existing operation to ensure no loss in production," explains Kevin Staines, Sales Director, CKF Systems Ltd. "That meant a full factory acceptance test of one of the three robot cells at our premises before installation. The new system incorporates effective interfacing, localised buffering and merge stations; whilst providing clearly defined routes for personnel and material movement. A series of spiral conveyors, inclined belts and driven roller systems have been configured to interface with the production lines and existing high level conveyors."
Click here for more on our Spiral conveyors and Conveyor Systems.
At the Banbury manufacturing plant of Barry Callebaut, the world's largest manufacturer of cocoa and chocolate products, we were commissioned to design, build and install an integrated robotic central palletising solution. The new system provides greater flexibility and reliability, utilises limited floor area, simplifies operational procedures and reduces maintenance costs. Click here for more.