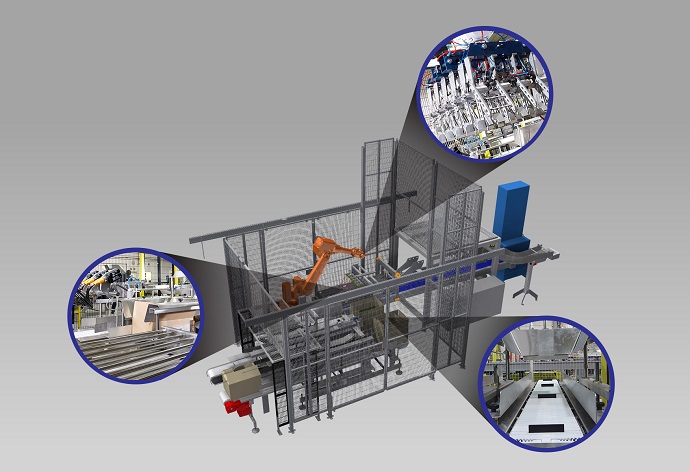 The Robot Case Packing System by CKF
With shelf space at a premium, the demand for shelf-ready packaging is increasing and at CKF Systems Ltd we have developed a fully automated low-cost robot case packing system.for manufacturers who are under pressure to meet the demands of the major retailers.
Eliminate manual packing
As automation and robotics specialists, we recognise that existing production facilities may struggle to meet the challenge. The CKF integrated Case Packing System eliminates the need for manual packing and improves reliability, operates within a confined space; increasing flexibility and future proofing.
The ABB 6 axis robot
At the heart of the Robotic Packing cell is an ABB 6 axis robot, equipped with modular grippers for easy format changes. The new modular system places packs into cases in a 'penny stack' configuration for optimum in-store presentation and with the ability to handle a range of weights and pack sizes with minimal changeover. It also enables the integration of case handling and labelling within the robot cell.
Automated pick and box handling
Product infeed conveyors from existing check weighers are complimented by a product conditioning and collation system for robot pick and box handling conveyors including auto flap control and closing. Integrated Case sealing and labelling and an intuitive HMI system ensure a simple product selection, easy operation and fast error diagnosis.
We initially undertook a series of trials at our factory to prove the concept and once built we followed this with extensive factory testing with various products. The Robotic Packing Cell was then refined as we identified change parts to maximise different pack configurations.
Immediate and substantial benefits
The Modular Packing Cell has immediate and substantial benefits for CKF customers. Production output will substantially increase through day in day out consistency with the ABB robots offering much greater flexibility and quality control. The shelf-ready packaging solution also provides Health and Safety benefits by eliminating the repetitive action of manual high speed packing and reducing the number of operations undertaken in one place.
For more information, please get in touch using the details below or visit our 'Contact Us' page.
CKF Systems Limited
The Pavilions
Olympus Park
Quedgeley
Gloucester
GL2 4NF
Tel: +44 (0)1452 728753