LAYER PALLETISERS BY CKF SYSTEMS
As a specialist in the design, build and installation of layer palletising system, our customers know that alongside an effective and robust solution they will achieve the earliest investment payback. Our experiences extend across a range of manufacturing industries, one recent example is at Barry Callebaut, the world's largest manufacturer of cocoa and chocolate products.
THE APPLICATION – WHY CKF?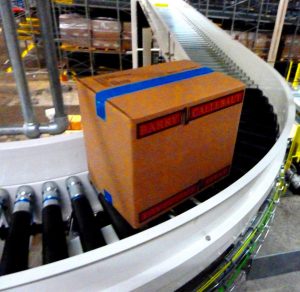 We were commissioned to design, build and install an integrated robotic central palletising solution. Designed around a single robot cell with the ability to palletise three different SKU's at the same time, the cell incorporates an ABB IRB 660 with a bespoke gripper to handle the full of case sizes, weights and configurations and with the ability to pick layer sheets.
The case feed system comprised a high level interface complete with divert station and barcode detection, to direct the flow of designated cases to the robot cell and separate in to three defined collation stations. Each station incorporates an identical conditioning section to orientate and collate the cases into defined rows and counts for the robot pick to create the associated pallet pattern. A dedicated pallet load station was positioned at the end of each collation station and the cell also included two separate layer sheet feed sections to handle both Chep and Euro pallets.
THE PERFORMANCE
The new system provides greater flexibility and reliability, utilises limited floor area, simplifies operational procedures and reduces maintenance costs. In addition, it was designed to overcome the challenges of picking up multiple sizes of boxes (between 10kg and 25kg), increased cycle rates and fully compliant with the company's stringent health and safety disciplines.
"The new line fits perfectly with the company's long term capacity-increase model," explains Barry Callebaut Chief Engineer, Mike Parkins. "It's easy to operate, requires minimal maintenance and reinforces the company's commitment to improving health and safety. We now have a system that is faster, more robust, requires minimal maintenance and meets all of the business investment expectations."
HOW CAN CKF HELP MY BUSINESS?
CKF's achievements span three decades and it continues to utilise latest technologies and engineering excellence to provide its customers with a competitive edge. In recent years the automation and robotics specialist has invested heavily to strengthen its in house capabilities. The company is able to take full responsibility of everything from the end of line conveying through to a centralised location including the installation of a full robotic system. The challenges are invariably complex and can also include stretch wrapping of pallets, labelling if required, double stacking prior to despatch and the moving of product through to departure bays.
PRODUCT FOCUS: CKF-Qimarox Palletisers
HIGHRUNNER MK7 – SPECIFICATION
Product size from 150x150x100 up to 600x400x400 (LxWxH) SSL
Layer weight up to 180kg
Possibility to use several pallet dimensions
Basic version only uses 7 motors
Capacity depends on geometry of products and the layer pattern
Suitable for all dimensionally stable products.
Optional with interlayer sheet applicators for higher stability
Capacity up to 3,500 products per hour
Capacity up to 12 seconds per layer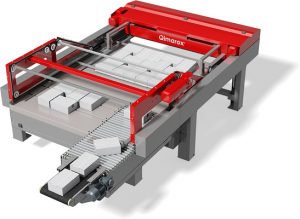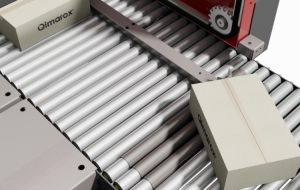 HIGHRUNNER MK7 – CONFIGURATION
Rotates products 0°, 90°,
180°
speed 0,69(cam) and 1,2(flow) m/s
Comes in three versions:
Rotates around cam
Rotates in flow
Rotates by means of a manipulator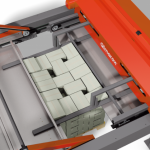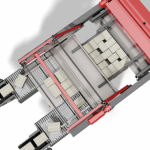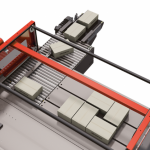 For more information, please get in touch using the details below or
visit our 'Contact Us' page
.
CKF Systems Limited
The Pavilions
Olympus Park
Quedgeley
Gloucester
GL2 4NF
Tel: +44 (0)1452 728753