CKF's Industry Sectors
CKF has a wealth of experience in providing robotic and automation solutions to manufacturers worldwide, covering everything from Cadbury's Roses and Heroes to car components!
For almost 30 years, CKF has specialised in the handling of a diverse range of products in the food, pharmaceutical and automotive industries utilising robotic packing/pick and place technologies and palletising systems for single or multi production lines.
Its capabilities have since extended into other industries such as machine tools, parcel sortation, electronics and consumer goods.
Automotive
Mechanical assembly
Fastening/torquing
Pressing/stretching
Adhesive application
Component handling
Automated assembly lines
Sequencing systems
JIT delivery systems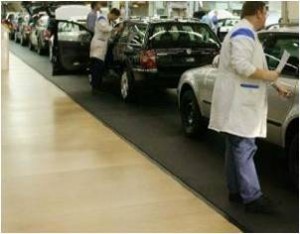 Food and Drink
Chocolate, sweets and chewing gum
Seasonal goods and speciality products
Savoury snacks, crisps, bagged products
Ingredient/bulk handling
Pizzas, fish fingers, burgers, chips
Ice creams, cakes, fruit pies
Foil tray and frozen ready meals
Bread and muffins
Pasta, poppadums, pizza bases
Tea, coffee and powdered drinks
Biscuits and cereal bars
Cosmetics and Pharmaceutical
Blister packs, glass phials, plastic containers
Lipsticks, talcum powder, shampoo
Medical goods
Pills and capsules
Contact lenses
Other industries
Consumer Goods
Electronics
Logistics
Machine Tools
Nuclear