Design & Manufacturing (3D Modelling)
CKF Systems continue to invest in the latest software for design and simulation.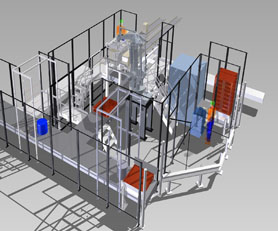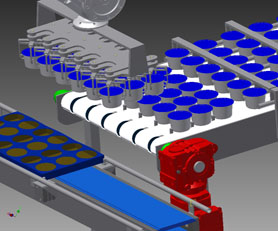 PROVIDING A VISUAL INSIGHT
All of our solutions are created with the assistance of 3D modelling which provides a real insight into the finished job. Mechanical design utilises Inventor 3D CAD softwear allowing components and assemblies to be rotated and manipulated providing full visualisation for both the designer and the customer.
VERIFYING ROBOT REACH AND CYCLE TIMES
The beauty of 3D designs is that unlike the traditional design drawings which many people find difficult to interpret fully, 3D CAD softwear brings to life the project. Our 3D modelling an also be incorporated into Robot Studio, a full robot simulation software enabling CKF to verify robot reach, operating window and cycle times at an early stage of the project. Electrical designers use the latest Eplan system as an efficient design tool.
BRINGING AUTOMATED SYSTEMS TO LIFE
Complex systems can be simulated to verify throughputs, efficiencies and potential bottle necks using the computerised simulation package Witness.
Mechanical fabrication and manufacture together with panel build and wiring are all carried out in-house within our state of the art facility in Gloucester, with a large area for full system assembly enabling Factory Acceptance Testing of the system prior to shipping.
For more information, please get in touch using the details below or visit our 'Contact Us' page.
CKF Systems Limited
The Pavilions
Olympus Park
Quedgeley
Gloucester
GL2 4NF
Tel: +44 (0)1452 728753
Email: info@ckf.co.uk