Centralised Palletisation
Centralising palletisation offers many benefits including reduced manning levels, fewer fork lift truck movements, elimination of timber pallets in a production area, reduced capital costs and a safer environment.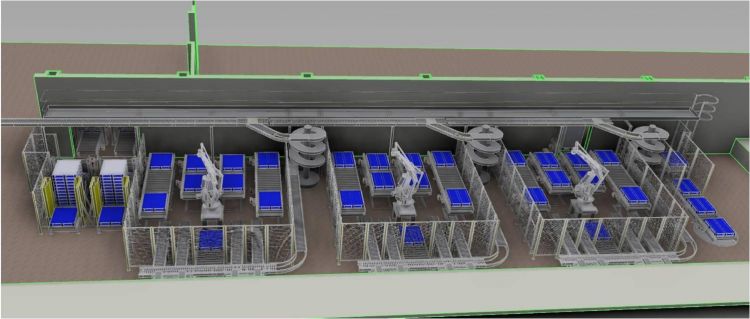 There are several options available when considering a central palletising solution, depending on factors such as throughputs, number of lines, variation of loads, type of loads and space available, although the two main types of palletisers are ROBOTIC and LAYER.
We can provide both of these solutions, with the robotic systems being designed and manufactured at our headquarters in Gloucester.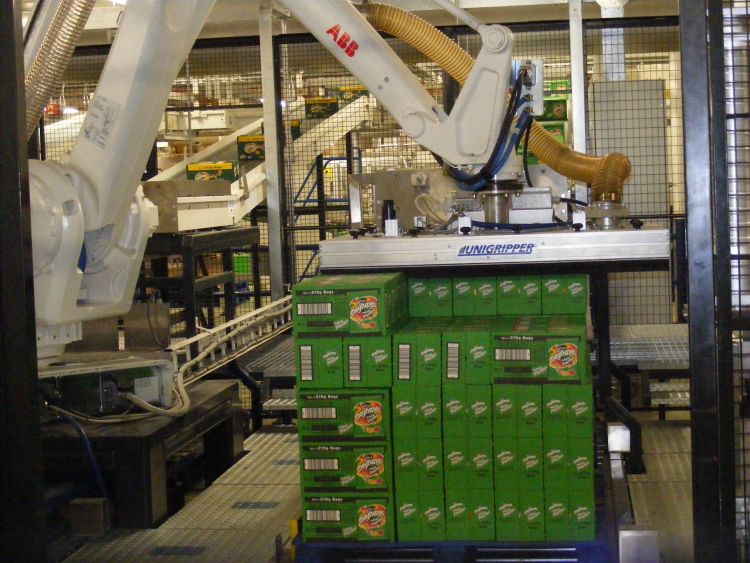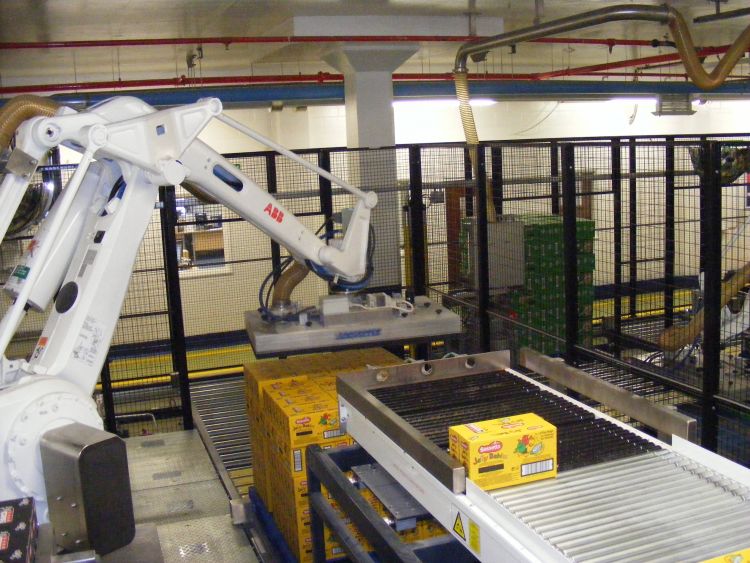 Linked with the palletising solution, we can provide all conveyor systems required to bring products from the end of line production facilities through to the palletising system, including any supporting structures and electrical control systems.
LEADING THE WAY
We take full responsibility of everything from the end of line conveying through to a centralised location including the installation of a full robotic solution. It could include stretch wrapping of pallets, labelling if required, double stacking prior to despatch and the moving of product through to the departure bays. We work across a range of industries where the challenges of central palletising invariably has a high degree of complexity.
Typical examples of recent systems include  Cadbury in Sheffield, where we designed and installed a new palletising system incorporating three robot-palletising cells, each comprised of an ABB IRB660 robot with a vacuum gripper together with a pallet handling system including pallet dispensers and high speed stretch wrappers.  The robots also have the ability to handle three separate pallet sizes with weights of up to 250 kilograms each, resulting in multiple box pick-up to reduce cycle times and to maximise throughput.
The solution has provided Cadbury with fast, flexible palletising capabilities and productivity has vastly improved. It has also further strengthened Cadbury's high standards of safety and reduced its carbon footprint. By increasing stacking heights to 1.7 metres, more products can be stacked on a single pallet; adding more pallets means a greater volume of stock is delivered using fewer vehicles and better utilising warehouse space.