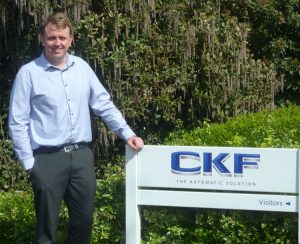 CKF Systems Ltd, the Gloucester-based provider of robotic solutions for manufacturing industry, has further strengthened its team with the appointment of Chris Edmunds as Electrical Proposals Engineer.
Chris, a multi-skilled engineer specialising in electrical engineering, arrives from Prima Dental Group, having previously undertaken a full multi-skilled apprenticeship with Mabey Bridge Ltd, specialists in bridge and engineering services, primarily for the military, where he went on to work for 10 years.
"We are delighted to have secured the services of such a talented individual," explains Bryan Wheeler, Managing Director, CKF Systems Ltd. "Chris is an electrical engineering specialist and his hands-on experience will benefit our business and customers. All three members of the CKF senior management team undertook apprenticeships, so we know the value of taking this route into engineering and the grounding it provides for a successful career."
"I am delighted to be part of such a progressive business with such a strong reputation in the area of automation and robotics," confirms Chris. "My new role will allow me to become more involved with design and see projects through from start to finish. "
Chris lives in the Forest of Dean with wife Amy; the couple are expecting their first baby together this year. Away from work, he plays the Guitar and also enjoys Golf and Jet skiing.